Sopa Restaurant
/ Barcelona
An open and bright urban restaurant in the 22 @ district of Barcelona
In front of the Can Framis Museum, in the 22 @ district of Barcelona, in Poble Nou. It occupies the three-storey street plant of a public works housing building, built in 2011 at the confluence of Roc Boronat and Sancho de Ávila, following criteria of sustainability and energy efficiency very rigorous, reason why it deserved the Endesa Grand Prize to the more sustainable real estate development of 2012.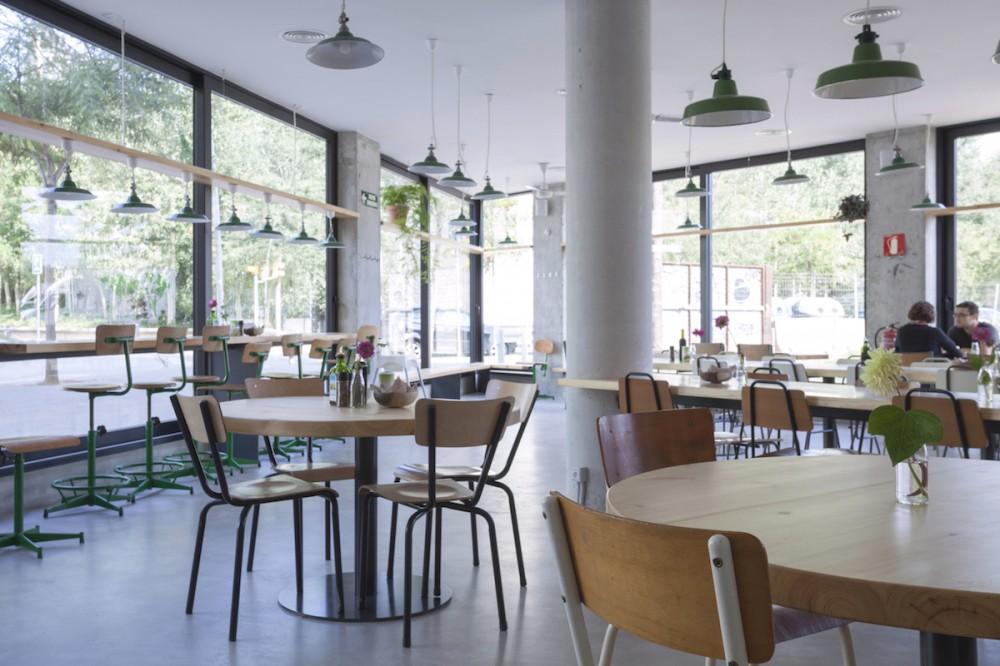 It consisted in designing an urban restaurant to eat healthy and fast, open, simple and bright, with a very tight budget. A relaxing environment, understood as a meeting place around the concept of healthy living, which includes vegetarian / vegan / macrobiotic food, yoga ...
The owner has two other Sopa restaurants in Madrid and Bali.
The restoration of the space
The facade, 300 m2, opened completely to the street. Around the perimeter, instead of fixed enclosures, vertical aluminum double-glazed sliding windows were used to allow, in summer, air circulation and natural cross ventilation, although several ceiling fans contribute to cooling the room. local. The perimeter transparency connects the interior with the street, suggesting the idea of ​​a square where things happen: employees of the surrounding offices that have breakfast in Sopa taking advantage of the wi-fi connection, mothers with children at snack time, people who take something before or after practicing yoga ... always with the feeling of being outdoors.
Surrounding the windows we find a bar facing outwards with stools, which evolves on a bench to sit looking in and even out when they are open.
The kitchen was linked to the bar of attention to the public through an appetizing window. This organization responds to a specific dynamic: the customer chooses the drink from a refrigerator located in the entrance and then, in the bar, performs his command. On the other side of this bar, the space shelves an exhibition of products for sale (organic food, crafts and jewelry). From this area there is a distributor hall leading to an office, dressing rooms / showers for men and women separated only by lockers, bathrooms and the yoga room, which can be accessed from the restaurant and from the street.
The tables (some communitarian, others smaller that can be grouped to the taste), bars and shelves were constructed to measure with planks and shelves of pine wood varnished to the water of 5 cm of thickness and iron structure. One of the collective tables is suspended between two pillars.
The materials and furniture used fit the limitations of a low cost project without losing the character of the simple and essential. Polished concrete floor, brick walls painted directly, bright white ceramic 20 x 20 cm applied on the main bar and toilets. And completing the image of the place, some lamps brought from Bali and different models of school chairs, bought in lot.