vilablanch desings the new moving scenography of the musician Francesco Tristano
Saturday 18th of June, the pianist and compositor Francesco Tristano debuted with the scenography in the presentation of its new electronic project "p:anoring". The presentation was exposed in the celebration of the 30th birthday of the label Transmat, which had place in El Molino in Barcelona, within the frame of the Off Sonar.
This performance was the beginning of the new worldwide tour of the artist, in which Tristano will count with the new scenography designed by the vilablanch studio. This scenario was created on some specifics requirements:
Give support to all the keyboard of the artist, in a safe and stable way. Meaning, it should be capable of weight bearing, movements, to have stability…
It should be easy to transport and assemble, since the artist performs the tour all around the world.
Have the capability to adapt in the different scenarios.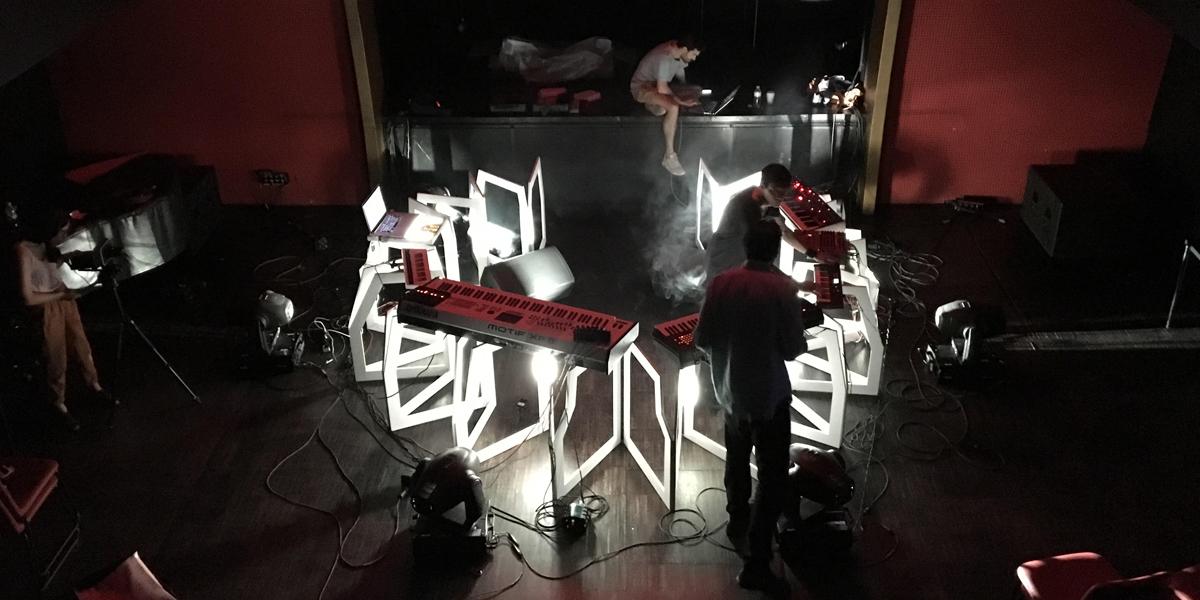 The designer's team of the vilablanch studio considered some solutions. Finally, chose to create one structure based in the use of individual elements, self-carrying, light and versatile, which are inspired in the body of and Grand piano.
Instead of working in one horizontal level, vertical articulated elements were created; they can extend or contracted the same way an accordion does. The structure counts with 30 articulated elements, which are the support surface for the keyboard and, the interior hole is inspired with the silhouette of the Grand piano.
Great versatility 
The scenography is made by 3 blocks of 10 articulated elements which adapt perfectly in each space, since they can be placed in different ways in the scenario (circular, S shape) depending on the visual effect wanted, the dimension of the space, the public position, if there is 1 or more musicians on stage…
Resisting and light structure
The structure is made of Paulownja wood, also known as "kiri" (its density is between 250- 290 kg/m3) a very resistant and light material that offers an excellent resistant-weight relation. Moreover, all the elements that compose the scenography are 8cm wide, which allows reducing the maximum weight of the structure without losing stability and resistance.
Easy to transport and assemble
It is an easy carry scenography, since it can be assembled and piled on in hand luggage. This moving scenario can be assembled in 10 minutes.
Game of lights
The support structure of the keyboard is an element that allows light to project in it. The illumination proposal was designed by Mau Morgó.